G Yamazawa

Headliner

National Poetry Slam Champion. Cultural Diplomat for the Department of State. Kundiman Fellow, Team Backpack certified. G YAMAZAWA has been featured on ABC, NBC, NPR, PBS, and has toured over 200 universities both domestic and internationally. With notable performances at the Sundance Film Festival and the Pentagon, G continues to challenge the American perspective of race/culture, poetry/rap, and the phenomena of the human condition. G's debut album "Shouts to Durham" charted at #37 on the iTunes top 100 rap albums, while his single "North Cack" peaked at #3 on Spotify's Viral 50 chart via Billboard.
Stanford Performing Groups
Powered by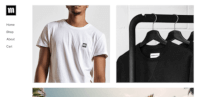 Create your own unique website with customizable templates.